Rules Corner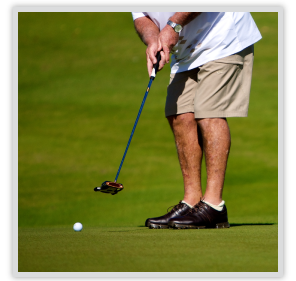 Rules Corner
Many golfers are intimidated by the vast amount of rules that fill the USGA Rules of Golf book. Our monthly section will be geared towards helping the golfer find ways to use the Rules of golf for their benefit and clear up any confusing myths.
This month we present three scenarios which focus on the putting green and the flagstick:
Scenario #1: Golfer A and B are both on the putting green and Golfer A has a long 55-foot putt. Golfer A requests Golfer B to tend the flagstick because he cannot see the hole. Golfer A strikes a beautiful putt and Golfer B is looking off to the distance at some butterflies. The ball accidentally strikes the flagstick. What is the ruling?
Answer: Player A, who made the stroke, incurs a penalty of 2 strokes in stroke play and loss of hole in match play (Rule 17-3). While it may seem unfair due to the daydreaming of Player B, the rules of golf strictly places the responsibility on the player making the stroke.
Scenario #2: A foursome is putting out on the par 5 4th hole at Club Campestre San Jose and has the flagstick laying near the hole. The group behind them has a long hitter who reaches the green in two, not thinking he could reach them, and hits into the group. The ball races across the green, hits the flagstick and stops 3 feet from the hole. What is the ruling? Does the player get a 2 stroke penalty?
Answer: No penalty is incurred. Decision 17-3/3 touches on this unlikely scenario and rule 17-3a is not applicable. It only applies to golfers in the same match or group.
Scenario #3: All four players have reached the green and the flag has been pulled on laid on the green. Player A has a long, fast downhill putt that races past the cup and it heading towards the flagstick on the ground. Player B races over and moves the flagstick so the ball in motion does not strike it. Has a rules violation occurred, and if so who gets the penalty?
Answer: The is no penalty or infraction caused. In January 2008, the USGA modified the rule to allow player to move any flagstick that is attended, removed or laid down, if they believe the ball in motion might hit it. (Rule 24-1)